mba英语口语面试范文
  导语:MBA是英文Master of Business Administration的`缩写,中文翻译过来叫工商管理硕士,是一种专业硕士学位。下面是小编为您精心推荐的MBA口语英语面试自我介绍,欢迎阅读参考,希望能够帮到您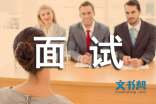 1.自我介绍(self-introduce)
  Good morning. I am glad to be here for this interview. First let me introduce myself. My name is ***,24. I come from ******,the capital of *******Province. I graduated from the ******* department of *****University in July,2001. In the past two years I have been preparing for the postgraduate examination while I have been teaching *****in NO. ****middle School and I was a head-teacher of a class in junior grade two. Now all my hard work has got a result since I have a chance to be interviewed by you.
  I am open-minded,quick in thought and very fond of history. In my spare time,I have broad interests like many other youngers.I like reading books,especially those about *******. Frequently I exchange with other people by making comments in the forum on line. In addition,during my college years,I was once a Net-bar technician. So,I have a comparative good command of network application. I am able to operate the computer well. I am skillful in searching for information on Internet. I am a football fan for years. Italian team is my favorite. Anyway,I feel great pity for our country's team.
  I always believe that one will easily lag behind unless he keeps on learning. Of course,if I am given a chance to study ****** in this famous University,I will spare no effort to master a good command of advance ******.
  2.自我介绍(self-introduce)
  Good morning,my dear teachers,my dear professors. I am very glad to be here for your interview. First let me introduce myself. My name is You HengBo. I was born in Shandong linqing in 1984, a small city which is in the northwest of Shandong province. I graduated from North China Electric Power University and get the bachelor degree, with the major of Finance in 2007. I was diligent in university and my grades were among the tops. In fact, I was awarded scholarships for 3 times during the (four) years of university life.
  After my graduation, I joined China Galaxy Securities in May ,2007, which is one of the top Security company in China. My position is Securities trader, and My job is to open a security account and Maintenance of customer.
  In Feburary ,2008, for some reasons, I changed my job to another company, ZMAY Holdings limited company, which is an Investment company in Beijing. My responsibility is to Search for project, negotiate, Draft agreement and maintain follow-up relations.
  In Feburary ,2009, I joined Datang Telecom Technology Industry Holdings Limited corporation. From then to now,I have been in DaTang as a investment manager. My responsibility is to Investment management。(such as Investment work and Investment approval )。
  That is all,thank you for your attention.
【mba英语口语面试范文】相关文章:
1.mba面试
2.mba面试流程
3.mba面试问题
4.mba面试攻略